|| Studio Transformation ||
Post Polka Dot is when I always find my space becomes a little bit chaotic. The market is an amazing experience and is an event I absolutely love being involved in, but it takes a lot of work. So, after three full days of physical work not only standing on your feet for prolonged periods, but also lifting heavy furniture and crates full of stock, by Monday morning I'm usually deplete of any motivation and energy. Couple this with a poor kid with gastro who lovingly passes it on to you, and you get a studio space that looks a little sad and neglected. Crates sitting unpacked, furniture askew, floors in desperate need of a sweep and mop.

This brings with it a great deal of guilt. Which also brings along feelings of anxiety and overwhelm… The idea that it is too much work to tackle right now, and that I'll never have the studio looking lovely again. The idea that I'm failing at this entrepreneur gig, and that I'm not hustling hard enough. I know that rationally this is ridiculous - because honestly who can rearrange furniture, unpack stock and clean floors when their kid is violently ill and you end up spending an inordinate amount of time in the toilet… However, for some reason we feel like we should be able to do it all.
But before I got stuck in this mindset of "not enough"-ness, I started thinking of all the work I had already done… All the blood, sweat and tears I had poured in to take the studio to a higher level. Hours of planning, painting & arranging to get it from an empty blank canvas to a space I could be proud of in the short space of a month (in time for last years Garage Sale Trail)
I was always looking for spaces - pop up shops, retail spaces, warehouses, co-working studios. I had always operated from a small home studio, and had drastically outgrown the small bedrooms I had dedicated for work. Then one day six months ago it all came together in rapid succession. I saw this mezzanine space advertised on Gumtree by the amazing crew at Raw Edge Furniture, who were looking to sublet some space from the warehouse in which they store all of their amazing timber. Within an hour of seeing it online I had gone to see it in person, discussed what I needed and signed the lease. After two years of searching I had finally found the perfect spot with the absolute best neighbours.

Dave from Raw Edge gave me free reign to do whatever was necessary to make the space workable. He & his team built me a door for the base of my stairs and walls for the stairway to make it a completely separate space, replaced the walls on the edge of the mezzanine to make them higher (and safer for the kids), and removed the extractor fan from the far corner of the studio to give me more space. I am honestly so incredibly grateful for all the hard work they put in to make the space work for me - it made a monumental difference!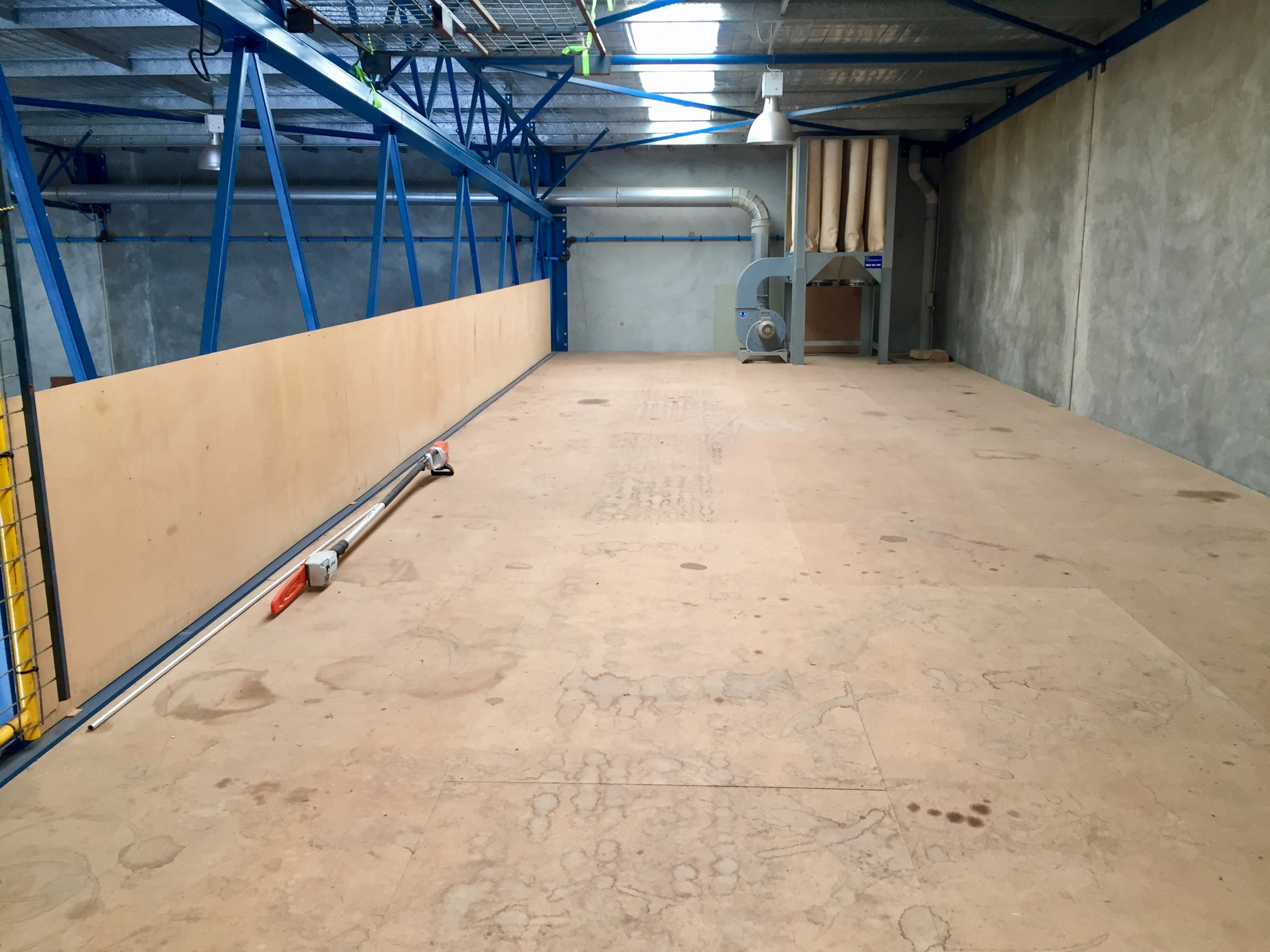 Back when the studio still had a large extractor fan taking up space in the back corner, and the MDF wooden flooring was heavily stained with oil and water marks.
The natural light was the thing that really sold the space for me - it was so light and airy, making it easy to see the potential in the space.
I started with a smaller test patch of primer & white paint first (I used Dulux 1-Step Primer, Sealer & Undercoat for the base and Dulux Wash & Wear paint in Vivid White for the floor colour)
Starting with a small test patch allowed me to see how the floor would show up in photos and how practical it would be to clean - I wanted the floor to be relatively low maintenance whilst still being hardy enough to withstand a lot of foot traffic.
As you can see in the other photos, the kids were really stoked with my choice to paint the floor white… I got a bit delirious half way through, but managed to get enough done for a mini set up to promote the Garage Sale Trail (photograph by @theessentialistblog + @detailmc)
And honestly, look at the difference it makes having the extractor fan removed! It really opened up the space.
These photos were taken post Garage Sale Trail last year - I had planned on taking some photos on the day, but the morning ended up getting away from me. Despite the empty cake stands that had previously been overflowing with homemade orange & chocolate cake, cookies and brownies, the space still looks damn good.
It's certainly not perfect - I still have some work left to do, and I want to increase my floor rug stock to layer across the studio. I never ended up fully painting one small strip of the floor (which actually worked quite well as a spot to move the heavy furniture in and out without risking damage to the floor) and I think I'll eventually end up painting the wooden walls across the edge of the mezzanine.
However, I'm learning to be less hung up on the fact it isn't perfect, and enjoy the space I've created - keeping the light and airy feel it had prior without being overwhelmed by too much brown.
The studio will continue to evolve as more stock cycles in and out, but for now I'm taking a moment to enjoy just how far it has come from the blank canvas it was before.